The Wireless Sketch Show, 2005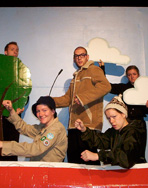 The Wireless Sketch Show is a high octane sketch set that pokes at the flab of culture.
Jim Deathman and his macabre puppet troupe prepare to stage the end of the world. Mime and ornithology join forces as Karl and Johan spot coots, and the pressure is on in Bridlington for the final of the Regional Bowing Championships.