The Dog-Eared Collective:
YOU'RE BETTER THAN THIS, 2011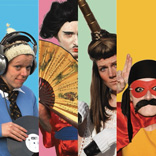 Anarchic sketch troupe The Dog-Eared Collective change your life. One sketch at a time.

Fly on the cape tails of a Diddy Man Vigilante, champion the power of Snooker: The Musical and answer the smell of the wild. Pour homme.

Supercharged silliness that will scrub you up the right way.