The Dog-Eared Collective's JOYRIDE, 2010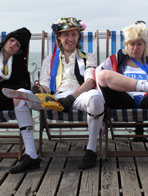 Fun junkies The Dog-Eared Collective set a sketch comedy crash course to Cloud 9!

Morris dancing with missiles, falafel freefall and Team GB's Olympic dragon - whatever flips your switch and fires up your funny bone, join The DEC for a full throttle thrill ride.

Strap in punks, we're not leaving without you.